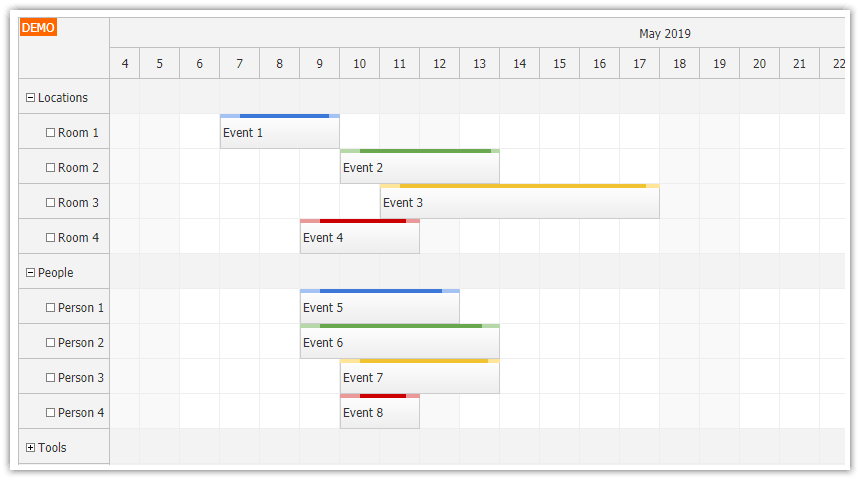 The JavaScript Scheduler is a visual HTML5 component that shows a timeline view for multiple resources. The time is displayed on the horizontal (X) axis and resources are displayed as rows (on the vertical axis).
The behavior of the Scheduler component can be customized using a rich JavaScript API.
You can customize the appearance of the JavaScript Scheduler using CSS. There are several CSS themes included in the download package. You can also design your own
To quickly explore the basic configuration options you can use the online UI Builder configurator. It will let you see the configuration changes in a live preview. You can also generate and download a project with the selected configuration. This way you can start your proof-of-concept implementation in minutes.
DayPilot Scheduler supports Angular, React, Vue.js, jQuery and AngularJS 1.x.
JavaScript Scheduler Tutorials
Featured Tutorial: 
PHP Shift Planning
This tutorial shows how to build a PHP application for visual shift scheduling. You can plan shift assignments for multiple locations. JavaScript/HTML5 frontend and MySQL fatabase.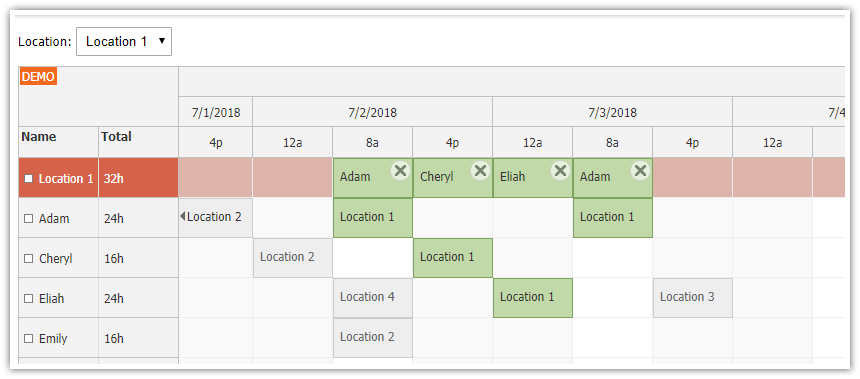 More tutorials:
See all JavaScript scheduler tutorials at code.daypilot.org.
Angular Scheduler Tutorials
See all Angular scheduler tutorials at code.daypilot.org.
Vue.js Scheduler Tutorials
React Scheduler Tutorials
AngularJS Scheduler Tutorials
See all AngularJS scheduler tutorials at code.daypilot.org.
See Also
Scheduler UI Builder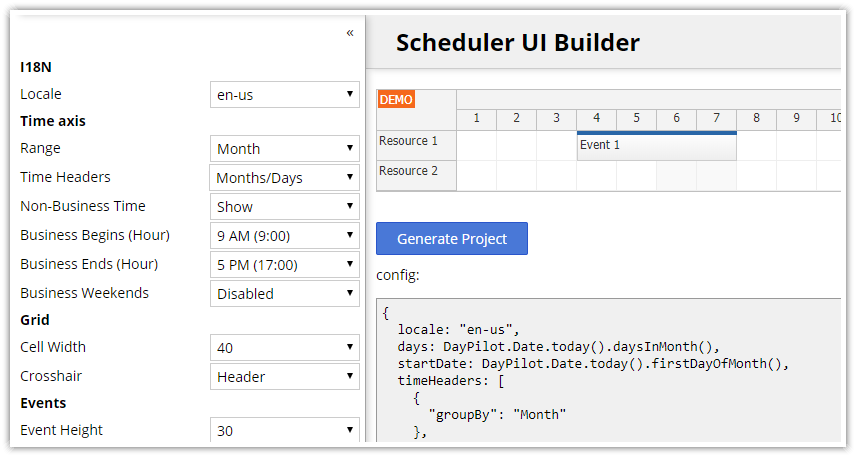 Create a quick proof of concept using Scheduler UI Builder. You can use this visual tool to configure the Scheduler appearance and properties and generate a downloadable project.

The scheduler includes out-of-the-box support for drag and drop operations:
Event moving
Event resizing
Event creating
Drag and drop from an external list
Auto-scrolling the scheduler viewport during drag and drop
Read more about drag and drop scheduler support.

Create the first prototype in a few minutes. 
Single JavaScript file include required.
Only 6 lines of code necessary for the basic setup.
No styling required: The default CSS theme included.
Quick CSS theme design - quickly create a CSS theme that matches your site/app using an online designer.
Start with sample projects at code.daypilot.org to save time.
Read more about the rapid scheduler prototyping.

The scheduler supports full CSS styling. You can change the look using one of the included themes:
Theme 8
Blue
White
Green
Transparent
Traditional
You can create a custom theme using the online WYSIWYG CSS theme designer.
Read more about scheduler themes.

The scheduler has built-in UI support for common tasks:
Event editing
Event deleting
Event selecting
Event context menu
Event hover details
Event copy and paste
Event creating
Event moving
Event resizing
Drag and drop from a list of unscheduled events
Read more about common UI tasks.

The scheduler is designed to handle thousands of events:
Progressive event rendering
On-demand event loading using AJAX
Dynamic resource tree nodes
Read more about displaying large data sets using the scheduler.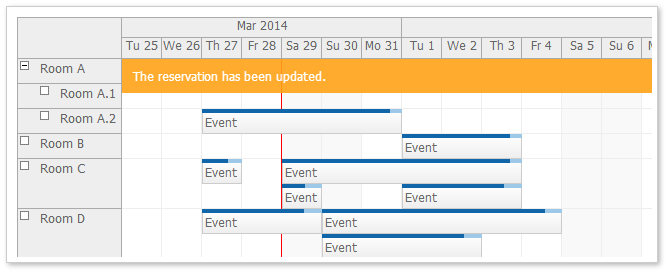 The scheduler lets you build great user experience using the built-in UI elements:
Integrated message bar
Event status icons
Inline event action hints
Crosshair highlighting the current position
Read more about the user experience.

The scheduler supports customization of all texts, custom date and time formats, 12/24 hour clock. Built-in support for 34 locales.
Read more about internationalization.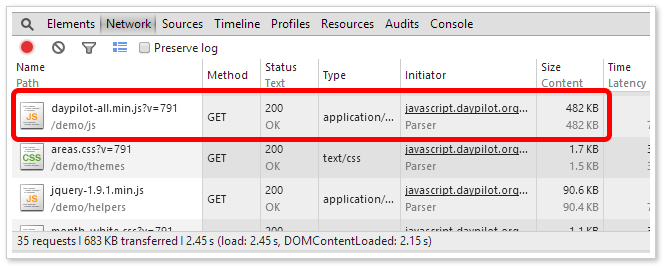 DayPilot doesn't require any third party JavaScript library which reduces the total footprint.
Minified and gzipped JavaScript size: 109 KB
Minified JavaScript size: 482 KB
You can reduce the footprint to 54 KB (minified, gzipped) by including only the components required for the scheduler.
Read more about the scheduler small footprint.

DayPilot is a standalone library without any third party dependencies but it includes a jQuery scheduler plugin.
Quick example:
<div id="dp"></div>

<script type="text/javascript">
  var dp = $("#dp").daypilotScheduler({
    resources: [
     { name: "Room A", id: "A" },
     { name: "Room B", id: "B" },
     { name: "Room C", id: "C" }
    ]
  });
</script>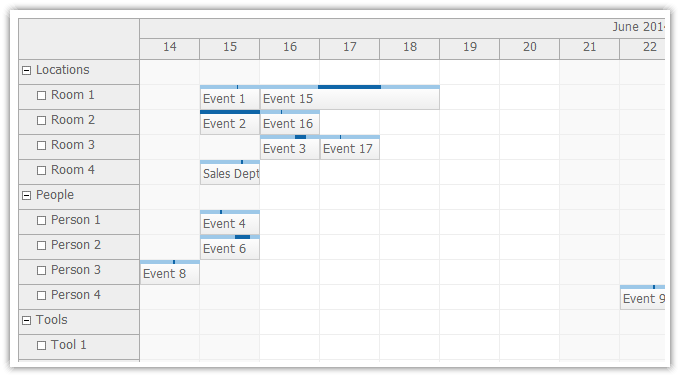 You can customize the Y axis of the scheduler that displays the resource list:
Arrange resources in groups and subgroups (resource tree)
Dynamic node children loading
Additional resource header columns
Read more about resources.

You can select one of the pre-defined timeline scale units or create a custom timeline:
Minutes
Hours
Days
Weeks
Months
Years
You can customize the time header rows, groups and the date/time format.
Read more about the flexible timeline.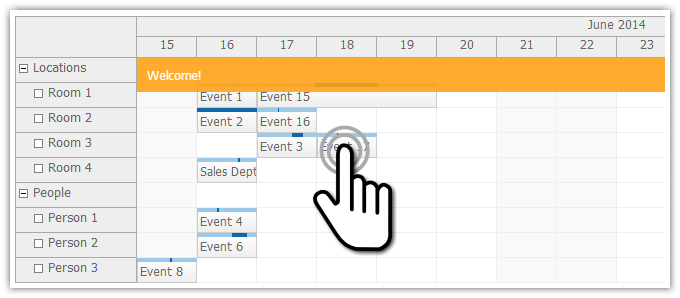 The scheduler supports mobile devices, including iPad, iPhone, iPod Touch (iOS) and Android devices.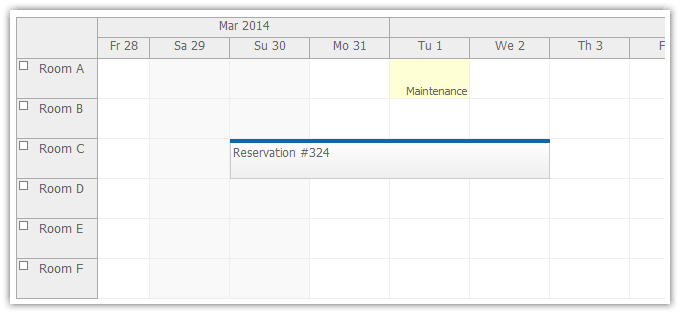 Customize cell properties such as width, height, HTML, CSS, background color, background image.
The scheduler includes built-in support for marking non-business hours/days (weekends).
Read more about cell customization.
You can customize the scheduler event properties, such as:
HTML
CSS class
dimensions
background color
duration bar color
duration bar background
event actions (moving, resizing, clicking, etc.)
event bubble (hover detail box)
Read more about event customization.